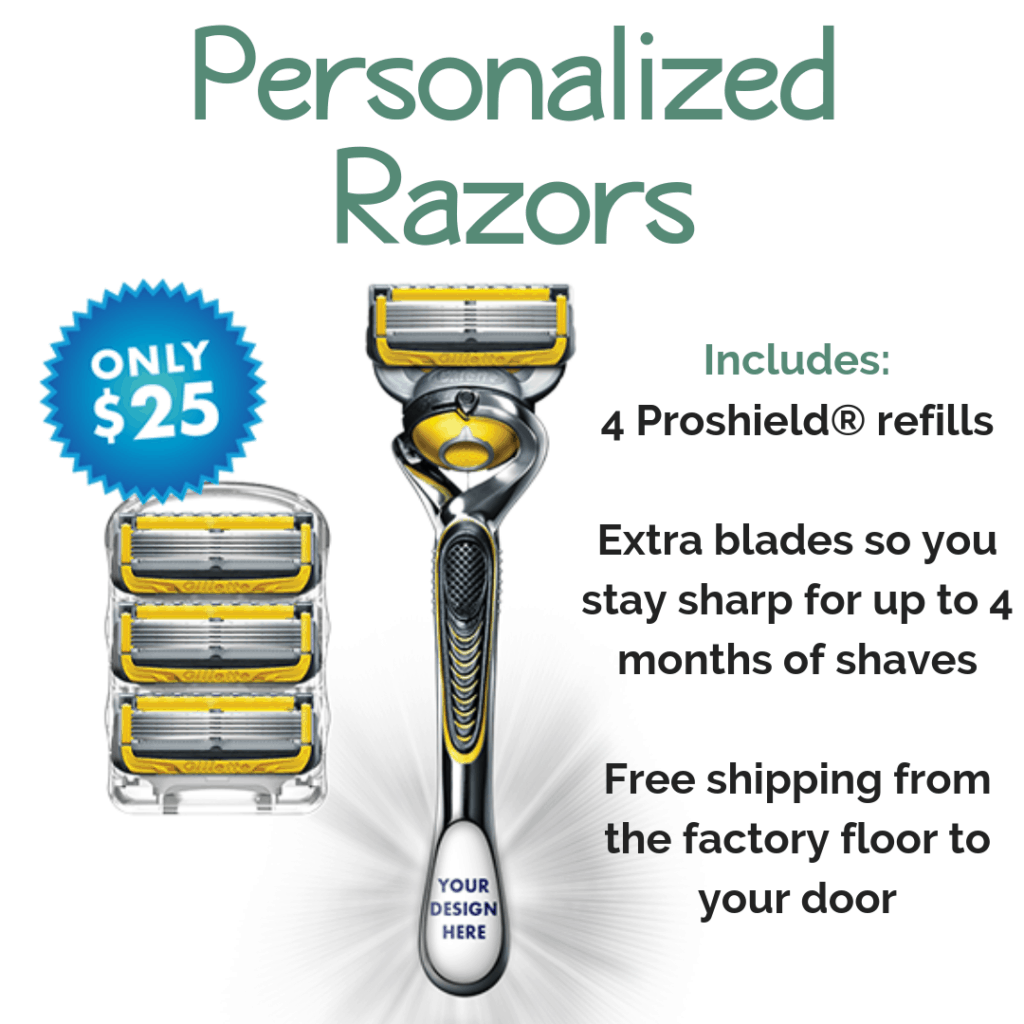 (pretty much everyone)
Do you have a hard to shop for person on your list this year?  Check out the personalized ProShield® Razor from Gillette.  It uses Gillette's most advanced blades for a shave you barely feel. I personally love my Gillette razor. Gillet is the best razor company and  The Gillette razor subscription is one of the best out there and also makes a great gift for anyone! This engraved razor handle would also make an excellent groomsman shaving gift!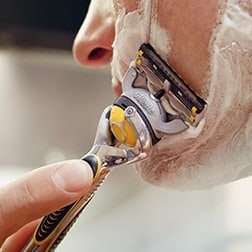 The  ProShield® Razor features
5 Anti-Friction Blades
Lubrication Before + After the blades helps shield your skin from irritation.
Precision Trimmer on the back – great for hard-to-reach areas and styling facial hair.
MicroComb that helps guide stubble to the blades.
FlexBall® Technology moves to the shape of your face to get virtually every hair.
Fits all FUSION® handles
Shave 3 to 4 times a week? One refill can last you up to a month.
Fusion5TM ProShield® was developed with cutting-edge technology and premium Gillette quality. It's a great razor for those with sensitive skin. The 5 Anti-Friction Blades provide a shave you barely feel and the Precision Trimmer on the back allows you to get perfect edging and achieve the ultimate shave experience.
Your personalized gift includes
4 Proshield® refills
Extra blades so you stay sharp for up to 4 months of shaves.*
Free shipping from the factory floor to your door.
How it works
Pay for it
Ship to your house (or work if you need to be super secret)
Don't forget to add extra blades to your order!
How creative can you get?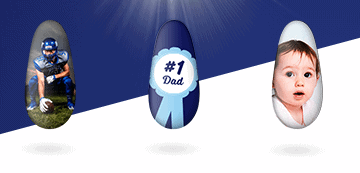 Backgrounds are the perfect foundation for your personal design.

Combine them with a text or stamps.

Stamps and forms are perfect for the finishing touch of your design.

Choose and upload a photo from your device image library. You can scale, rotate and put effects on it.
Tips for design personalization
Make sure that your photo is of good quality and you have the rights to use it. Minimum resolution of an uploaded image should be 766px height and 404px wide. If you are having a hard time figuring this out, use a free design sizing tool called CANVA
Add a personal message, a name or nickname, birthdate or wedding day to your design. You can choose between different fonts and colours.
Make sure that text stands out from the background and cut it short (10 characters is a good benchmark)
Why you should get this shaving gift
Everyone shaves.  This is the perfect gift for that hard to shop for person and it is really convenient to get your razors by mail! Personalised razors are really fun!.
Other cool Gillette items
Refer a friend and get $5 off!
Not interested in a personalized razor?  Get this coupon!
If you are interested in an entire giftset to read our blog post comparing shaving gift sets. Or you may be interested in this years #number 1 selling gift!