Shaving kits are the perfect gift idea

Shaving kits are the perfect gift idea and make a great gift for almost everyone. Your dad shaves his beard, your mom and sister shave their legs.  And don't worry about buying your mom and sisters a pink frilly shaving kit.  Those kits often cost twice as much just because they are for "women"  Plus they fit everyone! And they come in a wide variety of price points.
We created a gift guide for you to find the best shaving gifts. Bookmark this page!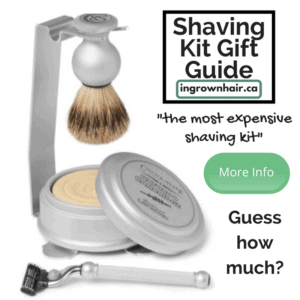 Czech & Speake Oxford & Cambridge Shaving Set And Stand- Click  to see the price
This Czech & Speake kit has been made in England using weighty silver metal and contains everything you need for a stylish shave. Presented in a branded box, it makes an ideal gift. – Soft badger-hair brush bristles encourage a rich lather – The Oxford & Cambridge soap is scented with Lavender, Peppermint and Rosemary – To assist efficient drying after use, the stand holds the brush upside down – Completing the set is an embossed razor, fitted with Mach 3 blades.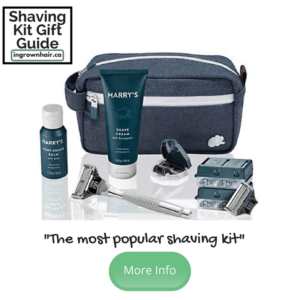 Harry's Men's Travel Kit-Click to see the price
Custom curated for Barneys New York, Harry's travel kit includes a chrome Winston handle and nine blades. This must-have collection comes stocked with essentials for a quality shave, including a soothing post-shave balm and more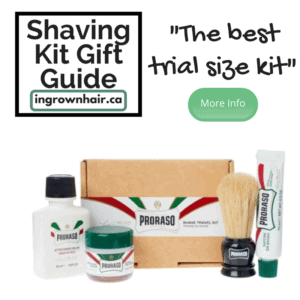 Shave Travel Kit by Proraso – Click to see a price
A collection of all of your favourite Proraso shaving essentials in on-the-go sizes. What it does: Just because you travel doesn't mean you should settle for less than a perfect shave. Take your grooming ritual wherever you go with this travel shaving kit.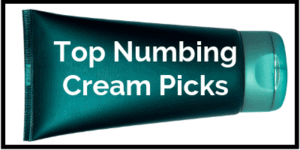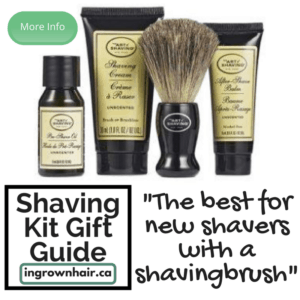 The Art of Shaving Starter Kit Unscented Click to see the price
The 4 Elements of The Perfect Shave combine The Art of Shaving's high-quality products, handcrafted accessories and expert shaving technique to provide optimal shaving results while helping against ingrown hairs, razor burn, and nicks and cuts. The Starter Kit offers one week's worth of essentials for a close and comfortable shave.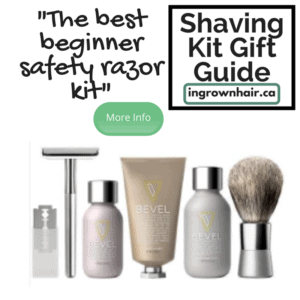 Bevel Shave System Starter Kit -click to see the price
Designed to help reduce and prevent irritation and razor bumps, the Bevel Shave System Starter Kit includes the Bevel razor and blades, Bevel badger brush and a 30-day supply of Bevel priming oil, shave cream and restoring balm.
Santa Fe Cup & Straight Razor Gift Set
Colonel Conk's heavy-duty Straight Razor Set #2316. A shaving kit for the serious shaver. A complete straight razor set which includes the following tools: a German-made straight razor, shave bowl, badger shave brush, 2 sided leather/canvas strop, styptic pencil, and stand that holds both brush and a straight razor. Colonel Conk natural pre-shave oil, shave cream, and aftershave lotion complete the set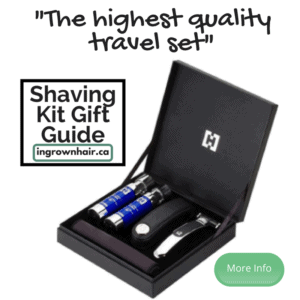 Hommage Verona Razor Travel Set
Open up the elegant box to reveal the sharpest, slickest razor set you could imagine. Designed by the European men's brand Hommage, this exquisitely crafted, ergonomic razor is engineered for safe handling and quality appearance with a precise grip that gives stability and control. It's complemented by a hand-stitched, magnetic closure leather pouch and two shaving products made with natural ingredients blended with innovative science.
These kits should be a great start when trying to pick the perfect shaving kit gift. We also want to show you our honourable mentions.
Do you love this gift guide?  Check out our most popular posts :
Home laser hair removal for ingrown hairs
How scrub gloves prevent ingrown hairs