This site contains affiliate links to products. As an Amazon Associate, I earn money from qualifying purchases. Always seek the advice of a physician or other qualified healthcare provider with any questions regarding a medical condition. The information on this website is for imformational purposes only and should not be considered medical advice.
Guest Blog post!
One of the methods of ingrown hair prevention tips we mention is laser hair removal.  If you go to a clinic or a salon that can be quite costly. When we were researching the home lasers we came across this post. With the permission of Tania Rice, we are reposting it here for you!
A couple of years ago I had a client who was looking for the best laser hair removal machine for home use. Initially, she looked into purchasing laser packages at a local spa here but quickly realized that she couldn't afford it.  
When she asked my opinion on it, I revealed that I myself used a home lasering system 8 years ago! I know! It seems funny that an esthetician who waxes people for a living would use a home laser.  Well, why wouldn't I? I'm just like over 50% of the population who would prefer if the hair was gone forever on certain parts of my body.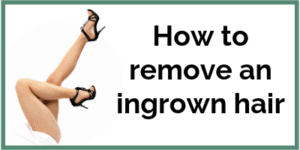 I knew that this person valued my opinion and asked for it even though potentially I would be losing a waxing client.  I'm not hurting for clients or business. And in the end, that one client has referred over 15 clients to me. And she herself still comes to me every once and awhile.  
I would rather my clients purchase items and products that I trust than waste their money.  So I put some time in it and researched the best laser hair removal machine for home use. After a long process, I found the Silk'n brand company.  
They are fantastic. They have the best reviews and great service. After emailing back and forth with one of their reps, they asked about the backstory as to why I would do this when it means I could lose business.
After I told them, they were kind enough to direct me to their affiliate programs so that I would at least earn a bit of a commission for every person who purchased a system from my link from my website.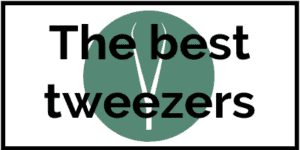 Long lasting effects*: Forget about shaving every day or constantly booking costly waxing or threading appointments at the salon.
Safe and easy: A built-in skin colour sensor offers superior safety and just one button to adjust energy level settings and turn the device on and off.

Privacy: No more awkward hair removal appointments. Get long-lasting effects* in the privacy and comfort of your own home.

Quick treatment sessions: Our devices offer a smooth, continuous gliding motion for easy use. Also, our devices plug into the wall to ensure a quick treatment and consistent power. You'll never have to worry that your battery will die before you finish your session.

Gentle on sensitive areas: With Silkn's hair removal devices, you can treat areas like the bikini line and underarms without any discomfort.*
*Results may vary based on hair or skin type.
Now.  If this is something your interested click on the button below to learn more or to purchase.  Thank you for your support!
---
Other products we love from the Silk'n Company!
We understand that acne breakouts can be professionally, socially and emotionally debilitating.
You can treat persistent acne problems without the use of chemicals or other potentially skin-damaging products.


Clinical trials performed in three clinics proved Blue's effectiveness in treating acne. 50 subjects of mild-to-moderate acne used Blue for 10 minutes twice a week for 4 consecutive weeks equalling 8 total treatments. The study concluded that 47 out of 50 users experienced a reduction in acne of at least 40%.
Blue can finally solve your acne issues. It's FDA-cleared and was developed and designed by experts for the at-home market. Blue allows users to enjoy professional-level results in the comfort and privacy of their home. It's truly revolutionary!
Blue can treat different types of facial and body acne. The technology penetrates the surface of your skin to work where oil-producing glands live. This is how Blue successfully eliminates acne and prevents breakouts from occurring in the future. By targeting acne-causing bacteria, Blue is the best device for people who have been searching for an advanced solution.
---


The Silk'n Titan is an anti-ageing device that works with harmonized energy technology to reduce wrinkles and lift facial contours. Designed to be used on all areas of the face and neck, this revolutionary technology repairs collagen and elastin fibres from the inside out.*
Titan technology delivers energy to precise areas beneath the skin to activate your body's natural restoration process. Titan tightens skin.*
• Tightens skin
• Reduces wrinkles and fine lines around the eyes
• Reduces superficial sun and age spots
• Improves the structure and elasticity of the skin
• Rejuvenates collagen and elastin fibres
• No recovery time needed
*Results may vary based on skin type and degree of laxity in the skin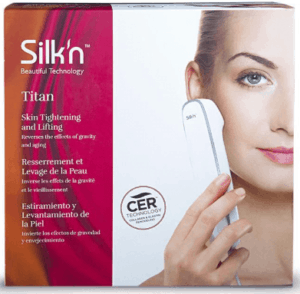 ---
The Silk'n Pedi Pro is an innovative handheld device that serves a dual purpose, nail and callus care. The nail polishing tip smooth's out any ridges and will erase any staining from previous nail colours. Follow up with the gentle polishing tip to create a visible, natural shine. The callus tip can be used in the shower to remove any dry skin quickly and easily.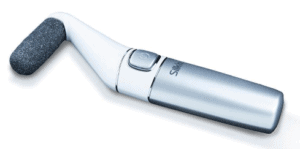 Read more about the Silk'n Pedi Pro 2 in 1 Mani and Pedi Device
---
The Silk'n Reveal diamond microderm wand is an essential part of any healthy beauty routine. The Silk'n Reveal microdermabrasion kit helps you uncover healthier skin after just one treatment.* With weekly use, you can diminish the appearance of fine lines, age spots, enlarged pores and acne scars.*
This is the at-home personal microdermabrasion treatment you've been searching for. Now you can save thousands of dollars by getting professional microdermabrasion results at home. Stop worrying about covering up your skin. Reveal it to the world with this remarkable technology.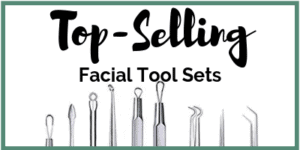 Reveal Diamond Microdermabrasion Benefits
Professional microdermabrasion results at home*
Immediately improves skin tone, texture and elasticity*
Continues to reveal healthier-looking skin with weekly treatments*
Lessens the damaging effects of daily elements, stress and pollution*
Improved skin penetration boosts the benefits of your facial creams*
*Results may vary based on skin type and texture
Learn more about the Reveal Microderm Wand—>>>
---
Cellulite is one of the most stubborn visible blemishes you can experience. It's skin dimpling caused by fat in connective tissue, and one of the main reasons people avoid showing off their summer bodies. It can plague legs, hips and thighs and can't be cured or even reduced by exercise or diet. Finally, there's a way to smooth your skin and improve elasticity. The Silk'n Silhouette Body Contouring and Cellulite Reduction Device shapes and contours skin to reduce cellulite.
---