The ultimate list of ingrown hair lotions, serums, creams and treatments
Do you suffer from ingrown hairs on your legs or bikini area? How about ingrown whiskers in your beard? Which ingrown hair lotions are the best? 

* Health disclaimer, See below.
If you suffer from ingrown hairs or razor burn, you'll be interested in reading this blog post.
Let's dive right in.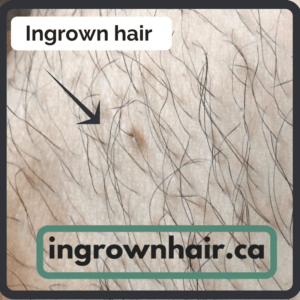 What is an ingrown hair?
An ingrown hair is a hair that grows under the skin or curls back inside itself. Ingrown hairs have a hard time breaking the surface and sometimes need a little get help being treated. Ingrown hairs can pop up anywhere!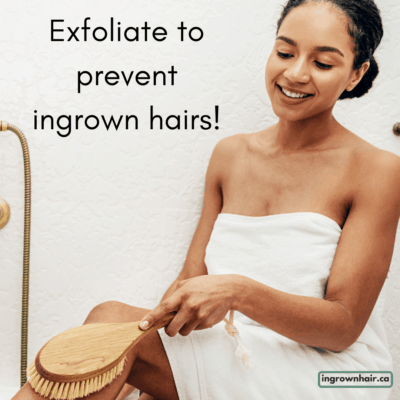 Why do we get ingrown hairs?
There is plenty of reasons why ingrown hairs exist or happen. It's primarily based on your skin, genetics, hair, and personal hygiene.
We wrote an in-depth blog post on the causes of ingrown hair that you can check out. "What causes ingrown hairs?"
If you're past that part and are just looking for an ingrown hair solution for yourself, check out our ultimate list of ingrown hair lotions, serums, creams and treatments.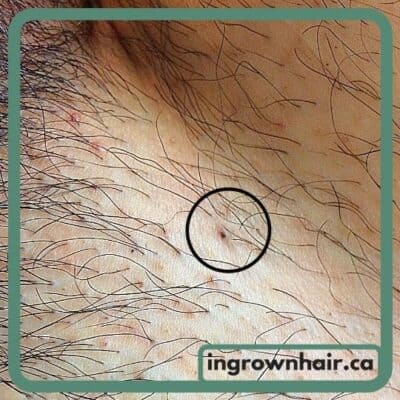 How do I pick an ingrown treatment for myself?
Many of the ingrown hair lotions we chose to feature are best-selling products. Your choice will depend on whether you like scented or unscented products.
It will also depend on how sensitive your skin is or the cost of the product. Ultimately we chose the best-proven products. Pick one that appeals to you and try it. You may need to try a few before you find the best one for your skin type.
There are hundreds of treatments for ingrown hairs, razor burn, beard bumps, and bikini bumps. We searched for the best-selling products and sorted them in an easy-to-shop chart.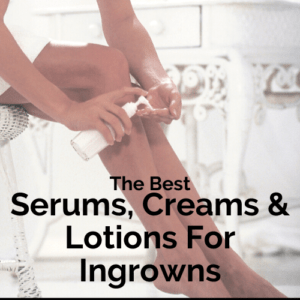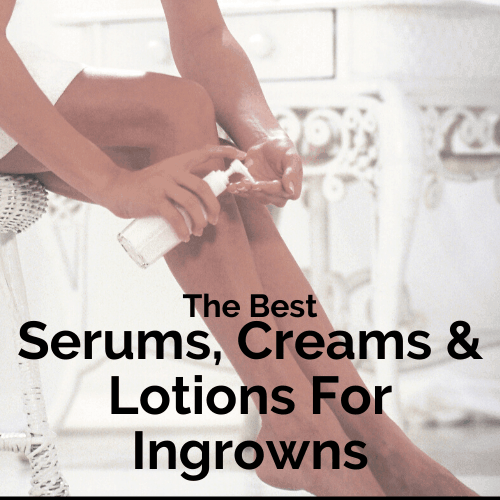 Scroll to the bottom for an in-depth review of each product.
The ultimate list of ingrown hair lotions, serums, creams and treatments
OUR #1 CHOICE AND AMAZON'S CHOICE
Tend Skin effectively reduces the appearance of unsightly ingrown hairs, razor bumps, and redness from shaving, waxing, electrolysis or laser hair removal
Regular application of Tend Skin Liquid will reduce the appearance of existing ingrown hairs without tweezing for both men and women.
Applying Tend Skin Liquid after shaving will reduce the appearance of the noticeable redness that appears on the skin after shaving. This is great for women after shaving legs, bikini lines and underarms and for men who see redness after shaving their faces.
---
THE BEST PRODUCT FOR BOTH MEN AND WOMEN
Bump Patrol Original Formula After Shave Intensive Treatment
The Original Formula goes on easy and gets rid of razor bumps and razor burns fast. In as little as 48 hours, you'll see a difference. Guaranteed. This smaller size is great for travelling. This product can be used on bald heads and faces, anywhere you shave. This product is perfect for both men and women!
---
BEST ALCOHOL-FREE INGROWN HAIR TREATMENT
B & C Skin Tight Ingrown Hair & Razor Bump Crème
Helps reduce the appearance of unsightly razor bumps and ingrown hairs resulting from shaving, waxing or electrolysis. B & C Skin Tight Ingrown Hair & Razor Bump Crème helps to moisturize, soften and smooth the skin. It can be used for the face, neck, underarms, bikini line and legs. ALCOHOL-FREE!
---
BEST FOR ACNE PRONE SKIN
Follique Original Formula
Follique Original Formula has been carefully formulated to reduce the appearance of common skin irritations associated with waxing, laser, microdermabrasion, shaving, electrolysis and tweezing. Its advanced formula treats redness, in-grown hairs, razor bumps and burns anywhere on your person.
---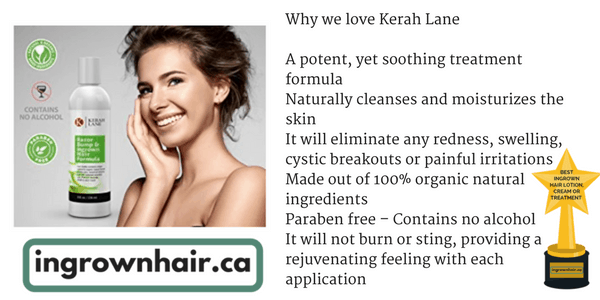 BEST NO STING FORMULA FOR INGROWN HAIRS
Kerah Lane Organic Razor Bump & Ingrown Hair Formula
A potent yet soothing treatment formulated to prevent and reduce the appearance of unsightly razor bumps, ingrown hairs, and razor burns. Kerah Lane is perfect for people who need an extra gentle ingrown hair solution.
Provides mild exfoliation to improve skin's appearance and removes dead skin pores

It will eliminate any redness, swelling, cystic breakouts or painful irritations

Made out of 100% organic natural ingredients

Paraben-free – Contains no alcohol
---
BEST ROLL ON GEL APPLICATOR
PFB VANISH is a unique, cosmetically elegant roll-on gel formulated to aid in the relief of ingrown hairs, and razor burn/bumps.  It exfoliates skin cells to "lift ingrown hairs" above the skin line. Tender pimples then arise when closely cut hairs grow out and pierce the hair follicle or curl back and reenter the skin to cause a foreign body reaction. 
To help relieve this condition, roll on PFB VANISH to affected areas morning and night two days prior to hair removal. After hair removal apply daily for maximum benefits.
---
BEST SALON RECOMMENDED INGROWN BUMP SOLUTION
 It is formulated with salicylic acid that gently unclogs pores and exfoliates the skin to achieve a smoother, more radiant, and bump-free skin after hair removal. It also lessens redness and protects the skin from inflammation.  GiGi No Bump Topical Solution helps prevent ingrown hair and bumps caused by waxing or shaving.  
Simply apply GiGi No Bump Skin Smoothing Topical Solution on the desired area 3-4 days prior to hair removal.  Then use as a daily maintenance toner to make your skin clearer and bump-free as you've always wanted!
---
BEST ALL-NATURAL PRODUCT
Fur – All Natural Ingrown Hair Concentrate
Fur is the first line of products that cares for pubic hair + skin.  It is specifically formulated for daily use, leading to fewer ingrown hairs and healthier skin over time. The paraben & phthalate-free blend of ingredients are both safe and effective, resulting in soft and supple fur.
---
BEST BUMP SOLUTION WITH A MASCULINE SMELL
Jack Black Bump Fix Razor Bump & Ingrown Hair Solution 
This unique, oil-free solution–a powerful combination of 2% salicylic acid and lactic acid–helps end painful razor bumps and treat acne blemishes. It also acts as an astringent for oily and acne-prone skin.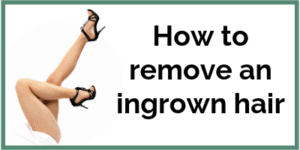 ---
BEST COOLING FORMULA
The formula contains an effective combination of exfoliating agents that help release trapped hairs from underneath the skin. It kills bacteria and prevents ingrown hairs from reoccurring. Shaveworks The Cool Fix works to soothe large patches of irritated skin in the bikini area, legs, and underarms. It can also be used on eyebrows and upper lip after waxing, threading or tweezing.
---
BEST OVERALL SKIN SERUM THAT REDUCES INGROWN HAIRS
Serious Serum is the perfect blend of glycolic and lactic acids and willow bark. It will leave your skin silky smooth and fabulous anywhere you apply it. Serious Serum was developed for post-waxing use, to alleviate ingrown hairs and minimize redness. However, we happily discovered that the combination of facial grade AHA/BHAs and green tea, aloe vera, and chamomile work perfectly to smooth bumpy, rough skin everywhere!
---
BEST 100% ORGANIC INGROWN HAIR LOTIONS
reduce the appearance of unsightly razor bumps, ingrown hairs and redness from shaving, waxing and electrolysis. It requires no mixing and can be used without limitations. For men's faces, necks and women's legs, underarms, and bikini lines

A mixture of chamomile essential oil, sandalwood essential oil, Jojoba Oil, Argan Oil, Sweet Almond Oil, Vitamin E, Vitamin A Retinol

contain azulene oil for hair thickness reduction.




---
BEST PRODUCT WITH THE WEIRDEST SIDE EFFECT
IntiMD COOCHY PLUS Intimate Shave Cream 
Like most women, you have probably run into your fair share of snags, cuts, and bumps while shaving. These can lead to discomfort and tend to leave behind unsightly marks. IntiMD COOCHY PLUS Intimate Shave Cream aims to eliminate the discomforts associated with the shaving of sensitive and intimate areas by developing extra-strength MOISTURIZING+ agents to effectively improve the intimate shaving experience.
Along with extremely effective moisturizing and softening properties of Jojoba Seed Oil, Avocado Oil, Shea Butter and Aloe Vera, IntiMD utilizes the Maca Root to provide extra benefits specific to the needs of a woman. A great added bonus of this amazing root is its potent aphrodisiacal qualities, known to increase libido as well as alleviate stress-related sexual dysfunction.<— WHAT?
We hope this list helps you choose which ingrown hair lotion will work best for your skin type.  We recommend preventing ingrown hairs with Scrub Brushes or Lazer hair removal.
*Always seek the advice of a physician or other qualified healthcare provider with any questions regarding a medical condition. The information on this website is for informational purposes only and should not be considered medical advice.